| | |
| --- | --- |
| Posted by shimmyshimmycake on October 2, 2012 at 11:35 PM | |
Halloween, Halloween, Trick or Treat.  
Our bentos can't be beat!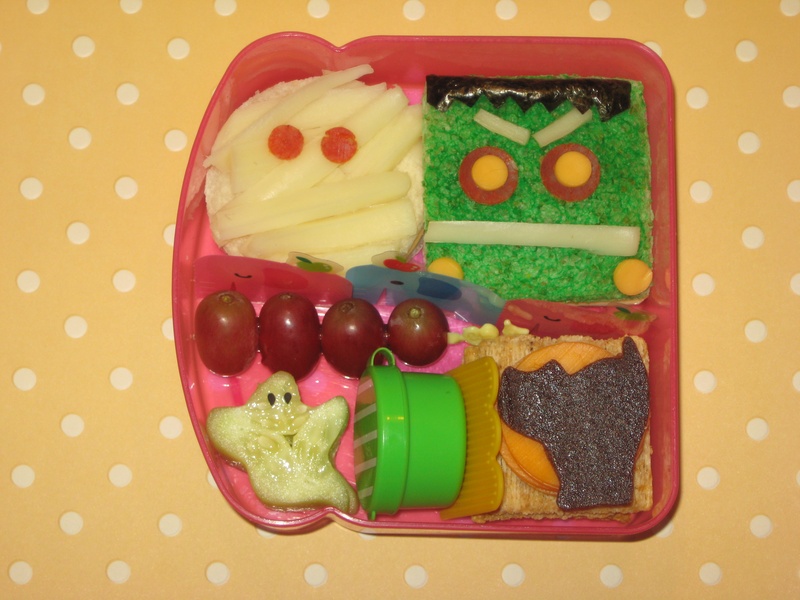 Contents:
Mummy Sandwich - Bread, ham, and cheese cut with circle cutter to make the sandwich.  Pulled pieces of string cheese apart to make the "bandages".  Cut pepperoni circles for the eyes.
Frankenstein Sandwich - Bread, ham and cheese cut with a square cutter to make the sandwich.  Sprayed the top piece of bread with green Wilton Food Mist.  Free hand cut Nori for the hair.  Used a circle cutter on yellow sliced cheese for the bolts and eyeballs.  Circle cutter for the pepperoni eyes.  Leftover string cheese slices for the mouth and eyebrows.
Black cat under a full moon  - Fruit Leather cut with a cat shaped cutter.  Full moon cheddar cheese slices cut with circle cutters.  Sitting on top of Triscuits.
Ghost - cucumbers cut with a ghost cutter.  Black sesame seed eyes.
Sword of grapes
Ranch Dressing in the sauce container
I LOVED making this Bento and it turned out so awesome, I don't know how I will ever top this one!?! 
XOXO,
Rachel
Categories: Bento, Just for fun