| | |
| --- | --- |
| Posted by shimmyshimmycake on August 29, 2012 at 9:15 PM | |
Tomorrow is my daughter's 6th birthday and I am a *terrible* mother because I did not make her any cupcakes to take to school.  She kinda gets the short end of the stick when it comes to her birthday since it always falls on either the first or second week of school.  I would feel really bad about sending cupcakes to school during the first week and don't want to get on the teacher's bad side by being "that" parent.  Not to mention all the rules that go along with sending cupcakes.....so I've just never done it.  I also don't invite her classmates to her birthday parties because who wants to get a birthday party invitation the first week of school?!?  We don't even know these kids yet and we're already inviting them to parties?  Um, NO.  I always feel like it's just a bit too much to ask of these strangers at the beginning of the school year.  
To keep from being labeled as the "worst mother ever" according to my daughter,  I made her this birthday bento for her lunch tomorrow.  I hope it will put a smile on her face, even though I didn't make cupcakes.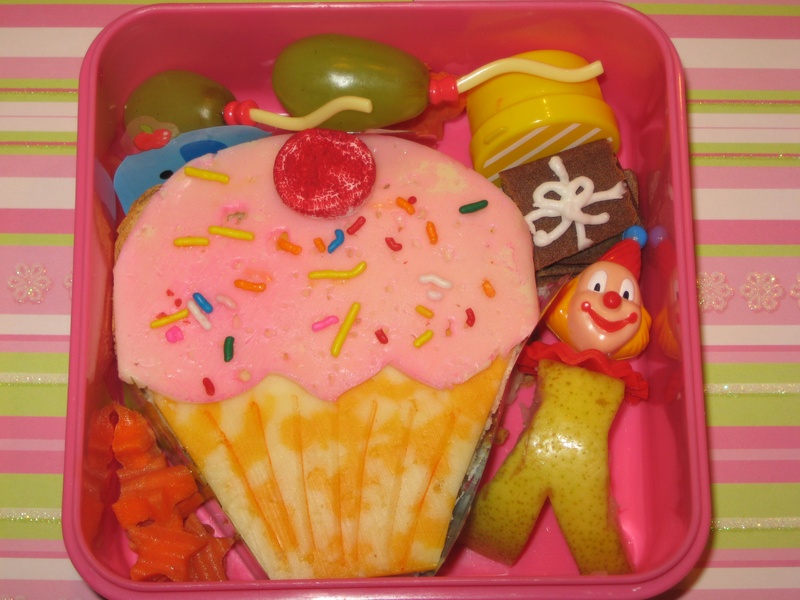 Contents:
Peanut Butter and Nutella sandwich free hand cut into a cupcake shape.  
Colby Jack cheese cut into the cupcake wrapper shape and added the lines with a food marker.
Havarti cheese cut into the icing shape and sprayed with Wilton Food Mist (pink) and added a few sprinkles.
The cherry is a marshmallow cut in half and colored red with a food marker.
Carrots cut into star shapes
Pear cut into a body shape and added the clown head on top.
The presents are fruit leather cut into squares and I piped the bow on top using cream cheese.
Grapes with balloon picks
Small container of ranch dressing
Happy 6th birthday to my princess!
XOXO,
Worst Mother Ever, Rachel