Having three girls in the house qualifies me as an expert on the following subjects:  glitter, Disney Princesses, flowers, and girly parties.  A few weekends ago I threw my step-daughter, who was turning 10, a Spa Party.  I ordered the paper goods from JCBabyCakes on Etsy.  Her work is amazing!  I really love the whimsical look of her designs.  There is just something so sweet and young about them that I just adore!  Check out her Etsy store here:  www.jcbabycakes.etsy.com  I ordered the invitations and water bottle labels.  I should have ordered the cupcake toppers, but I ran out of time and had to make due with what I had.  Here is what she designed for me...
Invitations:  We printed the Invitations on card stock (cropped to fit 2 on one page) and cut them with a paper trimmer. I crafted a velum envelope and put a few pinches of bath confetti (that I still had leftover from MY baby shower!) in the envelope. She handed the invitations out to her friends at school and asked them to wear a bathrobe to the party. The girls were so excited about the party they got in trouble a few times at school for talking too much about it!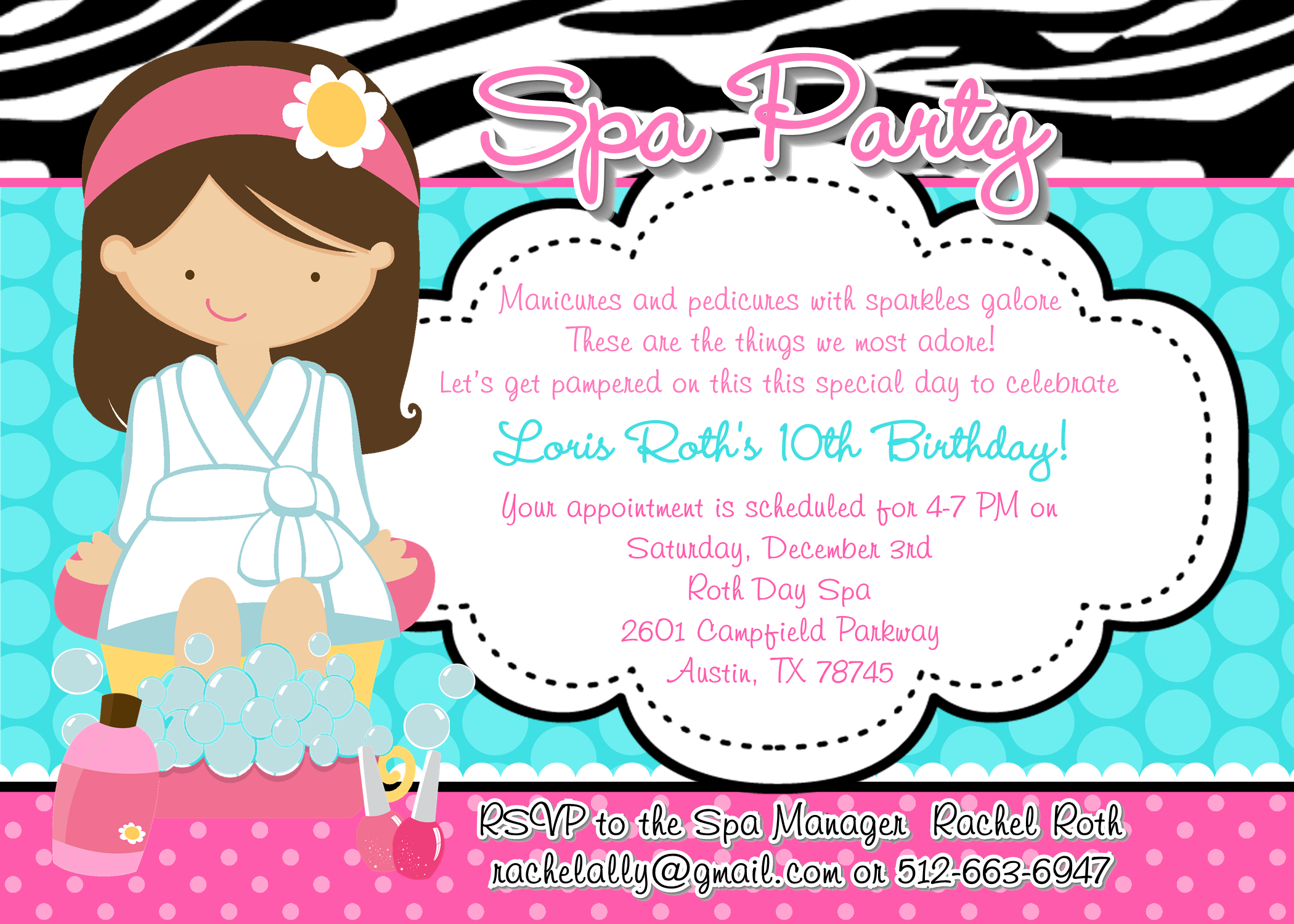 Water Bottle Labels:  We did several things with these. First we printed them on a full sheet of Avery labels and cut them for the water bottles themselves. Then we made a few extra for the sides of the buckets we used for party favors. Used extra copies to enhance the place setting and make name cards. When I was short on time, I cut the little spa girl out at the last minute to fashion some cupcake toppers. These turned out to be really versatile.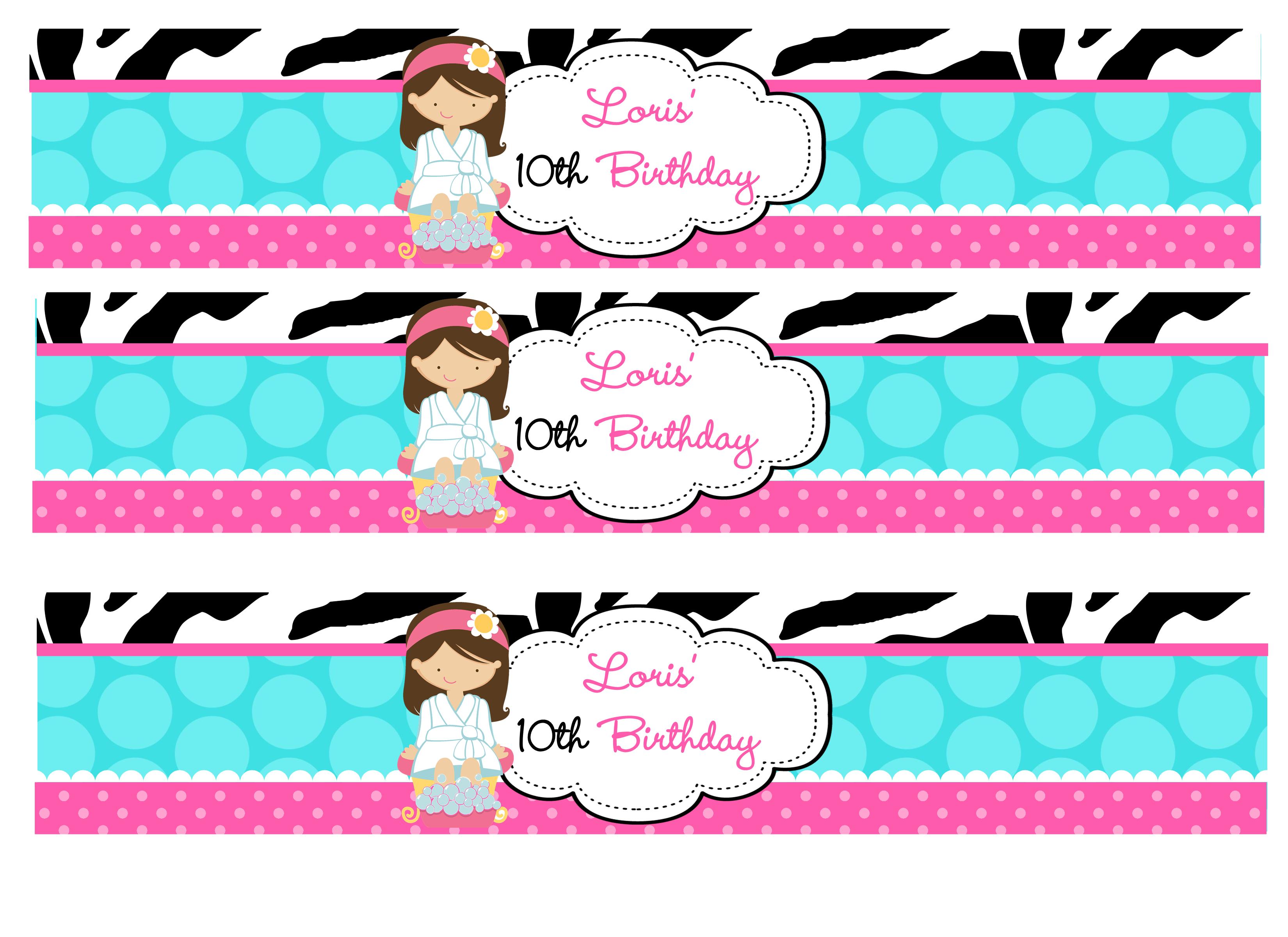 Favor Baskets:  I wanted baskets that would be useful both during the party and after.  There is nothing I hate more than kids coming home with a bunch of junky toys from a bad favor bag.  It always ends up in the trash.  I bought everthing at the Dollar Tree (including the buckets).  I really love that store for party planning.  In the baskets were: eye mask, pedicure kit, fuzzy socks, bath sponge, face sponge, soap flowers, hair band, a spice jar for keeping bath salts (we made those as our craft) and a standing mirror.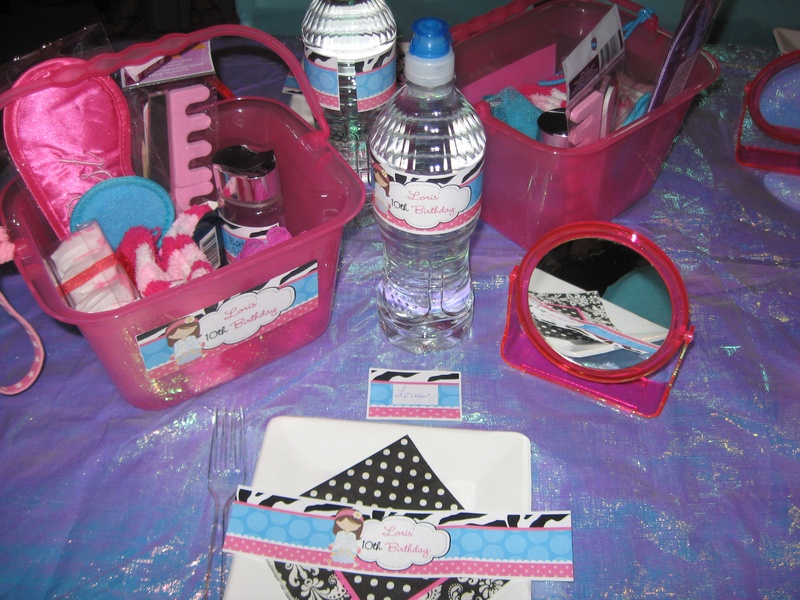 Crafts:  We did two take home crafts at the party, Lip Gloss and Bath Salts.  I bought a kit to make the lipgloss and it was a complete disaster.  It was so messy and disgusting that I threw my kids' away as soon as the party was over.  I should have gone with the shortning and kool aid recipe I saw on the internet.  The only problem was that I couldn't find small containers to put it in.  The bath salts was a lot of fun and the girls really enjoyed it.  I bought Epsom salt (at Dollar Tree) and they mixed it with food coloring and some scented oils.  It was inexpensive, minimal mess, useful, and fun!   
Food:  I stuck to basic kid food and tried to kick it up in sophistication with nice dishes.  We had ham and havarti mini crissonts, pasta salad, fruit tray, pomegranite sparkling punch, and vanilla cupcakes.  Note:  you can see the lip gloss and bath salt "stations" I had set up on the other side of the table where the girls are standing.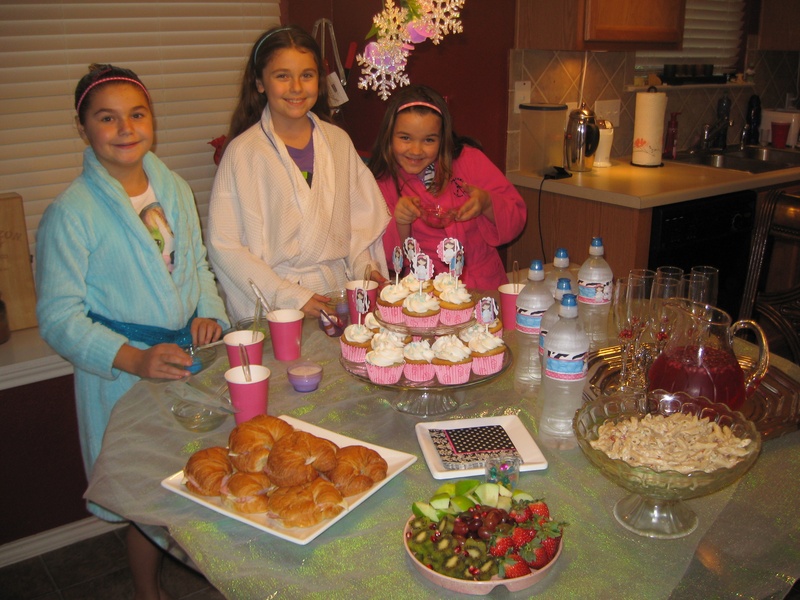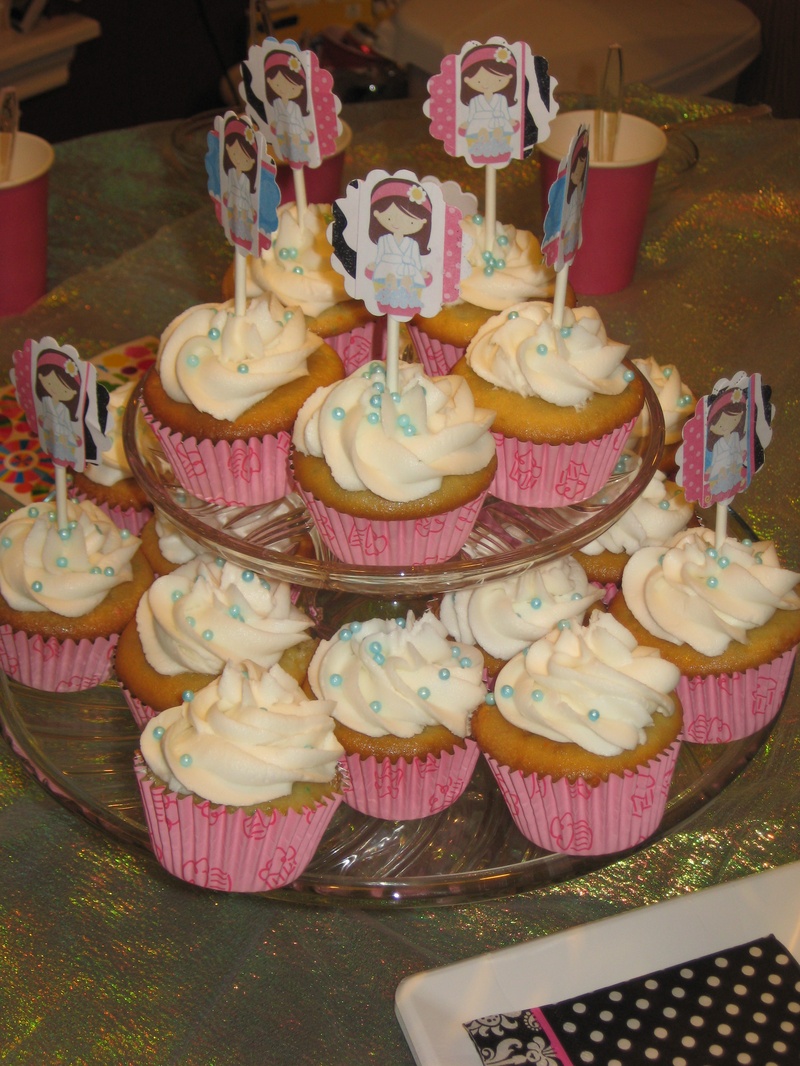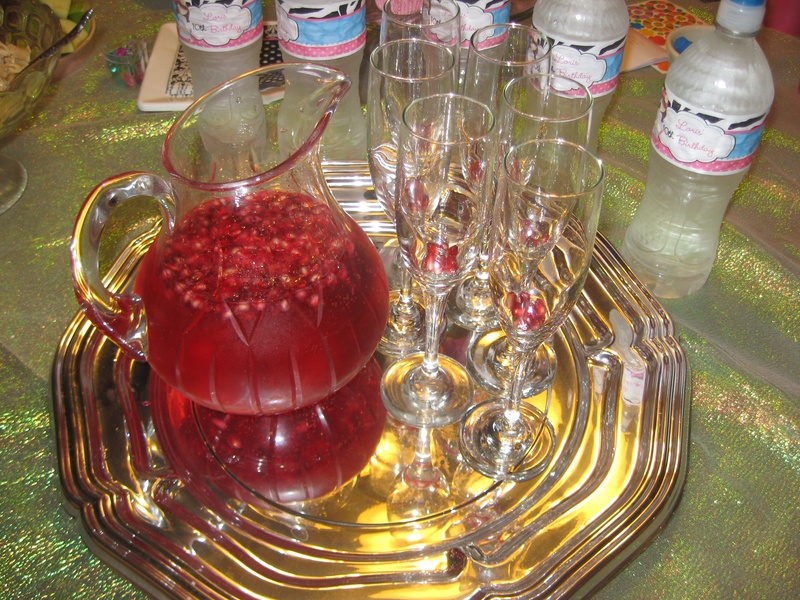 Party Time:  The rest of the time we spent doing manicures, spa pedicures, mud mask facials with cucumbers, mini massages, scavenger hunt for her big present and opening guests presents.  A few details made a big difference:  I brought my zebra chair and black nightstand down from the guest room, covered the kitchen chair in pink fabric, covered everything I could in fabric, bought some teen magazines, used a silver tray (from Dollar Tree, of course!) for the polish selection.  I think it made a pretty big difference.  Hopefully you agree...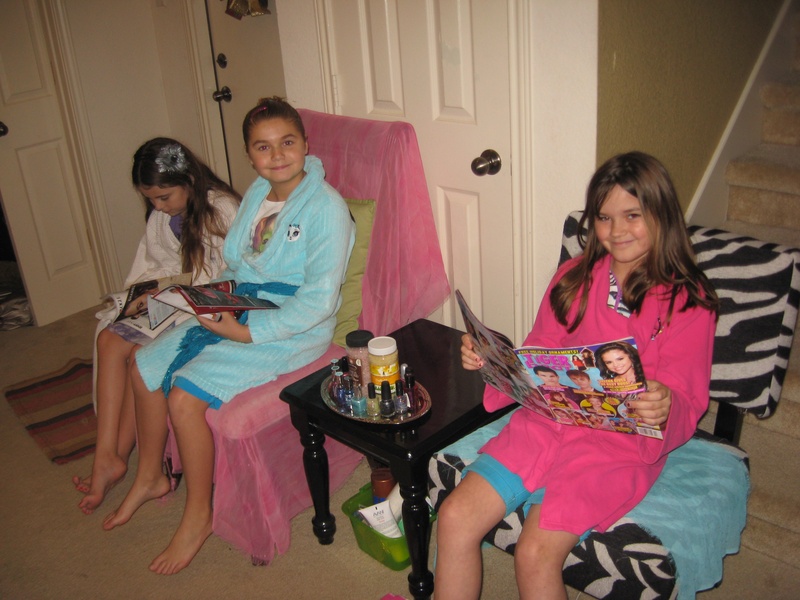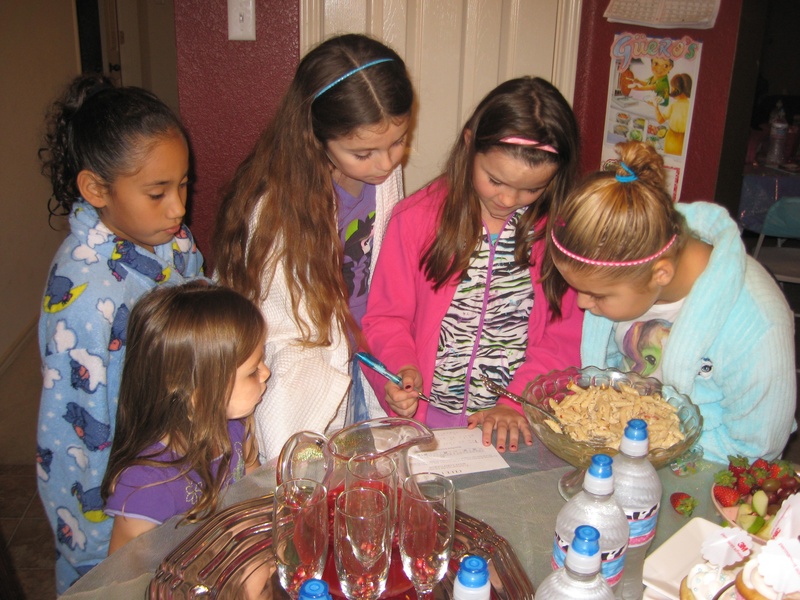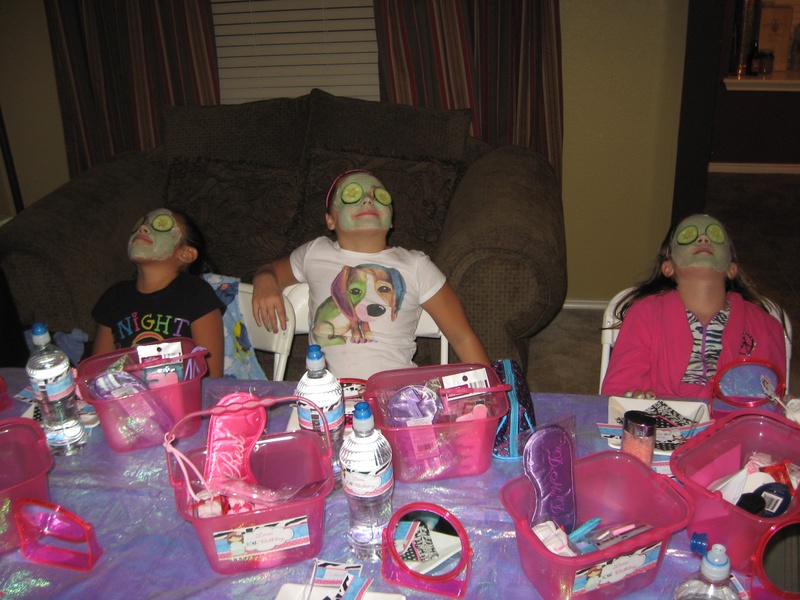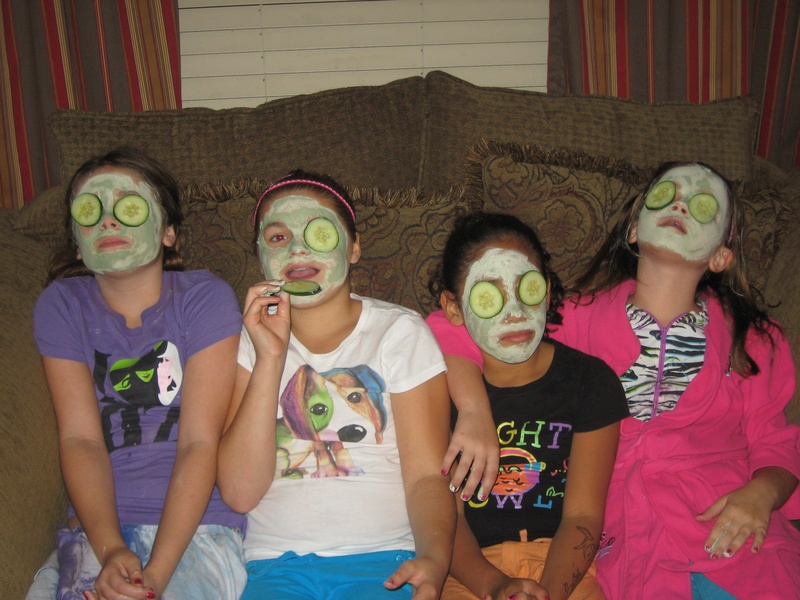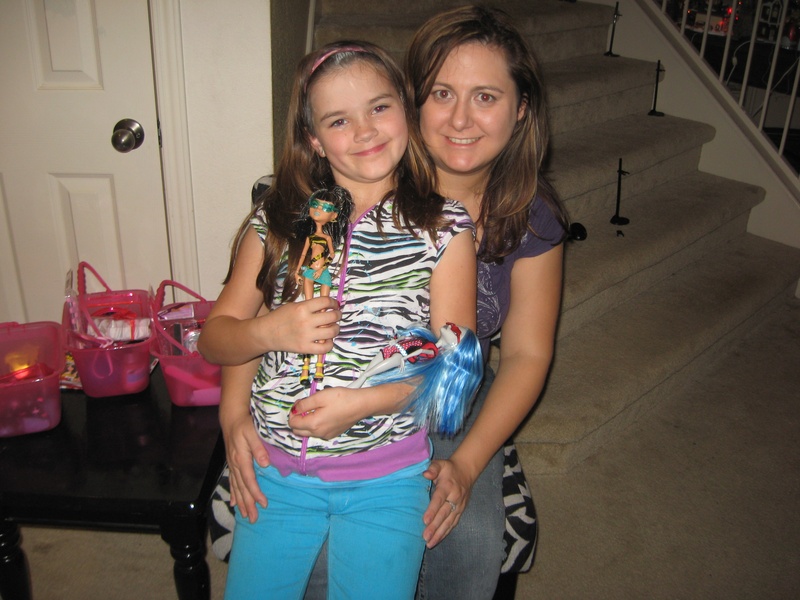 That was one happy little birthday girl!!
It was really easy to put this Spa party together and I used a lot of things I already had around the house.  The main cost was food and the favor baskets.  I hope you'll get to use some of these ideas to spoil your little tween princess too!     
XOXO,
Rachel