| | |
| --- | --- |
| Posted by shimmyshimmycake on September 26, 2012 at 11:00 PM | |
Between my husband and I, we have 3 girls.  All I know is girly stuff.  Like princesses, fashion, jewelry, make-up, glitter, rainbows and unicorns.  I know nothing about boy stuff like pirates, reptiles, and whatever else boys like (see, I can't even list anything).  When my Bento Princess wanted a Pirate themed bento, I kinda freaked out.  Um, we don't have any pirate themed stuff because our house is full of pink fluff and rainbow glitter.  We ended up compromising with a Hello Kitty Pirate themed Bento which is as far as I go on the dark side.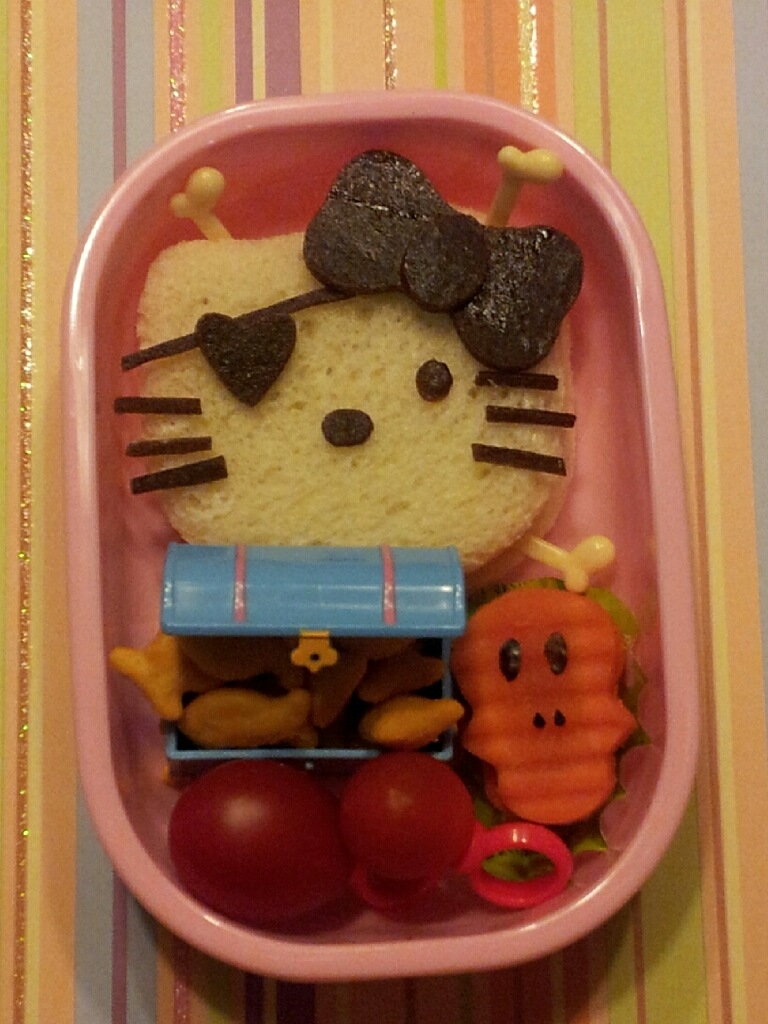 (Sorry about the picture quality, I can't find my camera and had to use my cell phone. )

Contents:
 Sandwich - used a Hello Kitty shaped cookie cutter to cut the bread.  The bow, eyes, nose, whiskers, and patch are all cut from fruit leather.  I used a dog bone shaped fondant cutter to cut the bow. Also added the bone shaped picks to the corners
Pirate Chest - We had this in our toy box and I think it came from an old Cinderella Polly Pockets toy set.  Filled it with Goldfish.
Skulls - used a fondant skull shaped cutter on the carrots, Nori face punch for the eyes and black sesame seed for the nostrils.
Rings - Grape tomatos on ring shaped picks
I loved the little skull shaped cutter, it came in a package with a pumpkin, ghost, bat, and black cat.  I hope to use those next month for some Halloween themed bentos!  Can't wait, Halloween is my favorite holiday.  
XOXO,
Rachel