| | |
| --- | --- |
| Posted by shimmyshimmycake on August 26, 2012 at 10:55 PM | |
Back to School means back to Bento making in our house.  I've been looking forward to the first week of school so I can create some fun lunches for my princess.  Here is her first day of school bento: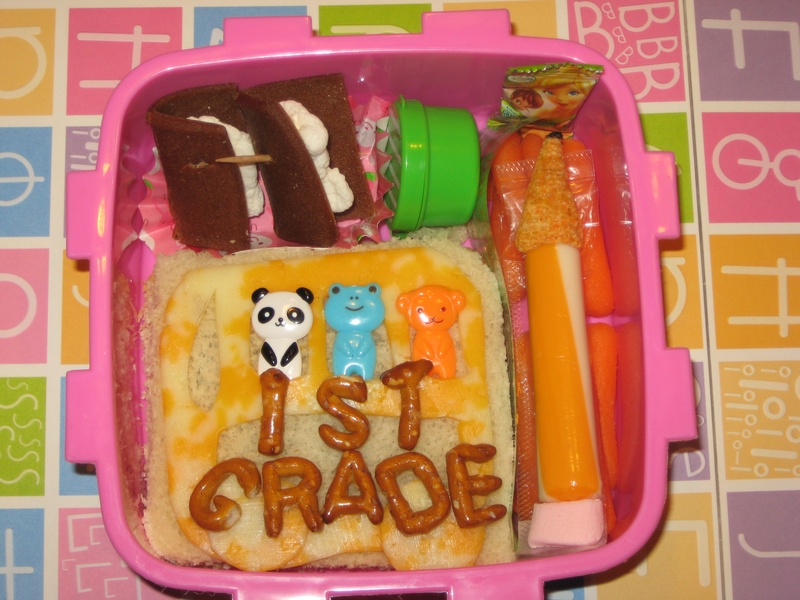 Contents:
Peanut butter and nutella sandwich.  
Colby Jack cheese cut in the shape of a bus placed on the sandwich.  I used some picks for the bus passengers
ABC pretzels - found these at HEB
Carrot Sticks, container of Ranch Dressing
Fruit Leather "books" folded in half with a marshmallow for the pages (I could not get them to stay folded for anything, so I ended up securing them with toothpicks.)
"Pencil" is a cheese stick with a pink marshmallow "eraser" and a bugle for the tip.  I used my food-safe markers to color a little bit of the tip to make it look like lead. 
Small packet of Tinkerbell pop-rocks - found these at Dollar Tree, perfect size for bentos.
Stay tuned for more back to school bentos this week...
XOXO,
Rachel