| | |
| --- | --- |
| Posted by shimmyshimmycake on August 8, 2012 at 10:55 PM | |
My 5 year old has been at a different camp every week this summer.  The last 2 weeks she has been at the Daugherty Arts Center camp.  She has been bringing home the neatest projects and it't really opened up her creativity.  We've been making Bento lunches during camp and I wanted to share a few of them with you over the next couple of days (ok weeks by the time I get around to posting them):  
Here is the Olympic themed Bento: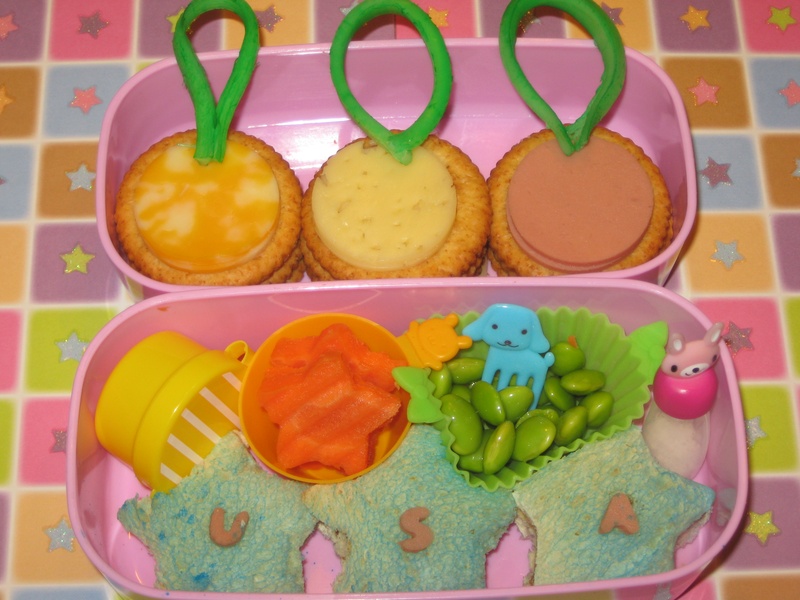 Contents:
Star Sandwiches - cut these using small star cutters, filled with PB and Nutella, sprayed with Blue Wilton Color Mist, added a bologna USA cutout letters.
Carrots cut into stars with a fondant cutter
Ranch dressing in the yellow sauce container
Edamame, shelled
Salt in the bunny sauce container
Wheat Ritz Crakers topped with colby jack cheese (for the gold medal), havarti cheese (for the silver medal), and bologna (for the bronze medal) all cut into circles.
String cheese pulled into 3 threads and sprayed with Wilton Green Color Mist food spray for the medal necklaces.
We ran into a problem with this Bento because we made it the night before camp and left it in the fridge overnight.  By lunchtime the next day the Ritz were soggy and not edible.  Next time, we'll put a plastic barrier in between the crackers and cheese/meat.  Hopefully that will solve the problem.
XOXO,
Rachel