| | |
| --- | --- |
| Posted by shimmyshimmycake on November 16, 2011 at 11:05 PM | comments (0) |
My daughter is a really picky eater.  She started Kindergarten this year and I was worried about having to pack a lunch for her everyday.  We started going to daycare about a month before school started to make a smooth transition from home to Kinder.  My daycare tuition included a hot lunch but I wasn't very happy with the menu and I knew if she didn't eat what they were serving she would starve all day.  So I started packing her a sack lunch with the basic PB&J, chips, a box of raisens and a juice box.  She ate pretty good for about a week and then she started sending back half eaten sandwiches and a full box of raisens.  So I decided to shake things up.  I searched on the internet for "healthy lunches for kids" which led to "fun and healthy lunches for kids" and I discovered Bentos!  
Bento [n].  Food in Japan is famously prepared as much for the eyes as for the palate. This is true even for Japanese preschoolers, most of whom take an elaborate, adorable mom-made meal, called obento (or bento), to school every day. The tradition becomes part of the social education of both parent and child and creates a connection between home and school for a youngster's earliest forays away from family.
I have an elaborate collection of cookie and fondant cutters from years of making cakes so it was a natural progression from cakes and cookies to start making Bento lunches for my little one.
Here is one of the first ones I made: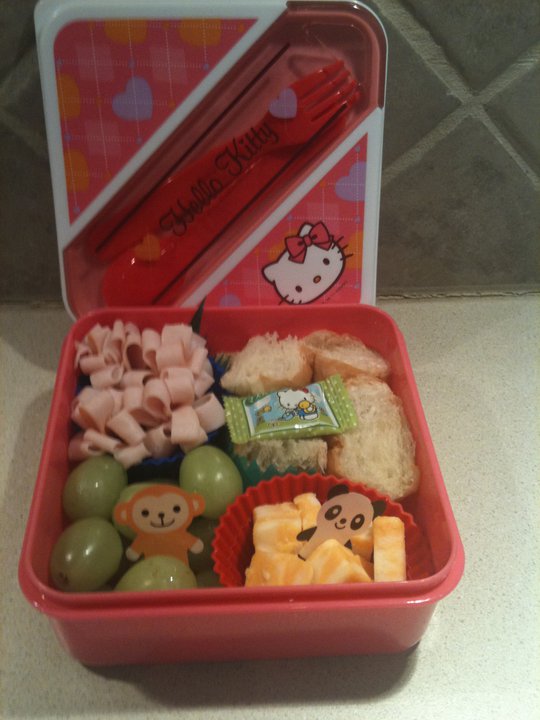 Contents:  ham, grapes, cheese cubes, croissant, and a tiny piece of hard candy.  
XOXO,
Rachel